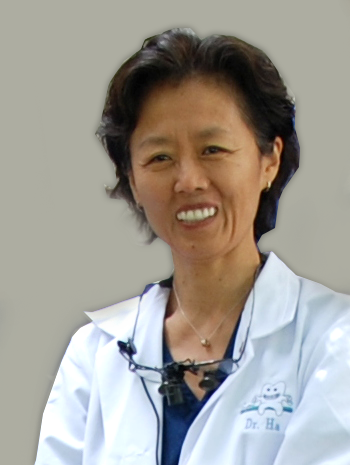 Meet the Doctor
Dr. Ha received her Bachelor of Science Degree from New York University (NYU) 1983 and her Doctorate of Dental Surgery from NYU College of Dentistry in 1990.
As a result of being one of the top students in her clinical dentistry class, she was accepted to NYU College of Dentistry's prestigious General Practice Residency Program. In this program, she received additional training in the fields of prosthodontics, restorative and cosmetic dentistry, periodontics and endodontics.
From 1991-1998, Dr. Ha had a successful private practice in New York City, where she specialized in restorative and cosmetic dentistry. She had a faculty appointment at NYU College of Dentistry where she taught clinical courses.
In 1998, she acquired a home-office practice in Millburn, NJ, where she continues to practice today. Dr. Ha has proudly maintained the time honored tradition of offering a high quality family dental practice, as begun by her predecessor in the 1960's. As a testament to her commitment and dedication, she counts amongst her patients, multi-generations of families in her community.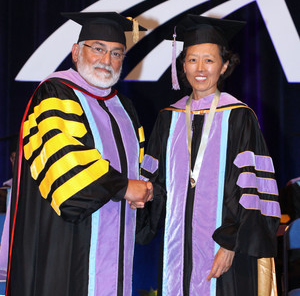 In addition to maintaining the integrity of the community practice model, Dr. Ha is dedicated to offering her patients the benefit of the latest advances in dental care. She has achieved this by completing hundreds of hours of post-doctoral, continuing education with the world's leading dental pioneers including The Dawson Academy (occlusion and comprehensive dentistry); The Pankey Institute for Advanced Dental Education (comprehensive dentistry); the Piper Education Research Center (Temporomandibular joint disorder); and, The Nash Institute for Dental Learning (cosmetic dentistry).
Furthermore, in 2011, Dr. Ha obtained a Fellowship from the Academy of General Dentistry (AGD). Only 7% of AGD dentists in the United States seek this prestigious designation. Dr. Ha continuously strives, for both professional and personal growth, and she is a strong believer in keeping both her mind and physical self challenged.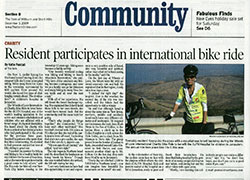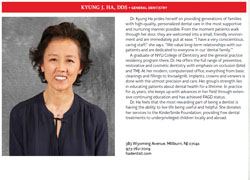 In 2015, New Jersey Monthly Magazine selected Dr. Ha as one of New Jersey's Top Dentists. The voting was conducted via an independent survey by Leflein Associates Inc., in which a total of 1,376 ballots submitted by dentists were ultimately accepted. The ballots and nominees were then submitted to a 20 member advisory board who further reviewed the votes and ultimately made the final selection of New Jersey's 603 Top Dentists. You may click on the image if you'd like to read the article.
She loves to cycle for a purpose, and has participated in many charity rides, internationally as well as in her own community. When she is not on her bike, she enjoys hiking with her dog and travelling with her husband and two children.
Dr. Ha is a volunteer dentist for the Kindersmile Foundation, a 501c3 non-profit organization based in Montclair, NJ, which provides free dental services to low income children. Dr. Ha's daughter, Lea Lee, is a Jr. board member of Kindersmile. Annually, Dr. Ha and her daughter, along with other Kindersmile volunteers, travel to third world countries to provide dental care for children and families in need.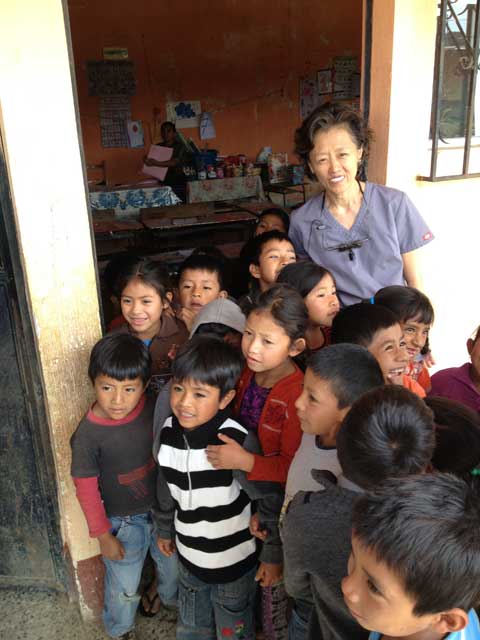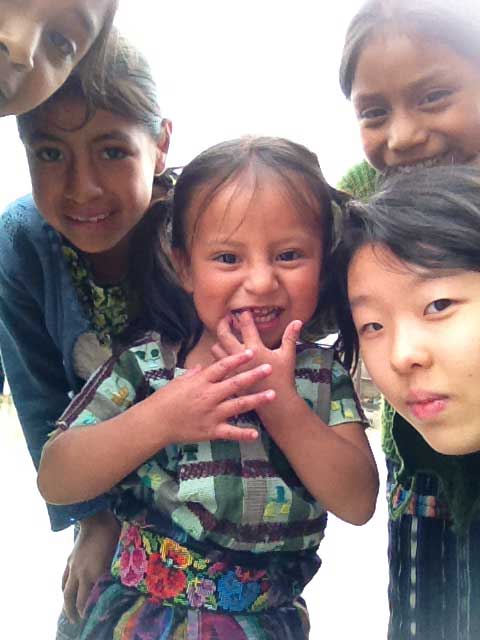 If you'd like to learn more or make a contribution, please visit www.kindersmile.org